"Give Me 5 Minutes And I'll Show You How To Write And Deliver an Amazing Best Man Speech The Bride And Groom Will Never Forget!"
If your best friend, brother, or any other personal connection has asked you to be their Best Man, congratulations. This is one of the highest compliments that can be paid to you.
Of course, your idea of a "compliment" may not be having to give a good speech in front of a group people. Some of whom you've likely never met before in your life.
On top of the normal stress associated with having to speak in front of others, your Best Man Speech will be remembered for years, and it is likely to be recorded on video as well.
To sum it up, your Best Man speech has to be perfect.
But here's the problem: most of us only get the chance to be a Best Man maybe once in our lives. It's not like you have a ton of experience in putting together great speeches.
Add to this the pressure to perform in front of others without breaking a sweat, and suddenly an event that should be the time of your life is stressing you out.
Instead, you should enjoy the role of being chosen as Best Man. It's an honor. And on top of the fact that you should be having fun with it, you don't want to let down the bride and groom, either.
Now, imagine if you could sit down with someone who's delivered hundreds of Best Man speeches, and be given crystal-clear directions on how to whip up the perfect speech and knock it out of the park, making your friend's wedding that much more memorable.
What you need is advice, tips, and step by step instructions on writing and delivering the perfect Best Man speech…
Introducing: Best Man Speeches Made Easy
"This astonishing package answers all your questions, shows you all the short-cuts, and gives you a quick and easy paint-by-the-numbers method of making a fantastic Best Man speech — even if you can't write anything more than a grocery list or your own name — 100% Guaranteed!"
Best Man Speeches Made Easy gives you step-by-step techniques for using jokes, stories and quotes that will rocket your speech above the bare essentials. Not only will you quickly learn how to piece a fantastic speech together, you'll also enjoy the process.
Here's what you get:
20+ "fill in the blank" speech bodes that hold your hand in writing the bulk of the speech, but also allow a personal touch that will be remembered forever

50+ ways to open and close your speech

100's of one-liners, quotes, and jokes to add spice to your speech

Full audio version of the book and bonuses, so you can listen to it in the car, or put it on your iPod or MP3 player and listen to it anywhere. This way you don't have to have the time to sit and read, just listen your way to a great speech
You'll Be Taken By The Hand And Shown Exactly What To Do, Step-By-Step, Until You Succeed!
The 20 pre-written speeches are easy to customize, and allows you to prepare yourself in no time flat. So instead of dreading and worrying about having to perform, you'll be rested and excited about the wedding.
Best Man Speeches Made Easy will answer any anxieties you may have about making the speech. It offers guidance on speech-making essentials, grand openings, strong middles, big finishes, plus quickly putting it all together and delivering the speech itself!
"OK, Steve, But Be Frank With Me… How 'Easy' to Use is it, Really?"
Simple.
You'll discover how to whip together the perfect Best Man Speech in an in-depth, word-by-word, step-by-step and "fill in the blank" process so you feel comfortable doing it, even for the very first time.
You see, bad Best Man Speeches don't simply happen.
There is always a reason that they failed.
Find the reason and discover the solution.
That's why this package was put together.
The result is an arsenal of easy to apply solutions and strategies that I know will help you write a killer speech.
But that's not all…
You Also Get These SIX Incredible FREE Bonuses

FREE Bonus #1 Marriage Quotes and One Liners and Wedding Humor- Value $25
If you're struggling to think of a good way to phrase something, then look no further. This hot collection of over 180 quotes and one liners gives you plenty of ways to add spice to your speech. You can use them "as is" or to get your creative juices flowing.
Also if you want to lighten the mood and keep the audience's attention, then humor is a must. You don't have to be a professional comedian to have them laughing up a storm. Here are tons of jokes and riddles you can quickly insert into your speech.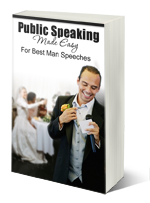 FREE Bonus #2 Public Speaking Made Easy – Value $30
Writing the Best Man Speech is only half the battle. The task of delivering the speech in front of family, friends, and strangers can still be daunting.
If the thought of speaking in front of others leaves you terrified, and you're scared you'll be tongue tied or make mistakes then this guide is for you.
By following a few pieces of simple advice, you'll erase your fear and turn the event of giving your speech into something memorable.
Extra Bonus – includes video and audio version, almost a course in itself.

FREE Bonus #3 Best Man Responsibilities – Value $15
The responsibilities of Best Man aren't limited to standing next to the groom and delivering a five minutes speech. You have a variety of duties before, during, and even after the wedding.
Here is a comprehensive list of responsibilities that you must be aware of, so that you can plan ahead.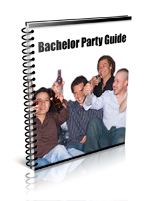 FREE Bonus #4 Planning and Executing the Bachelor Party – Value $15
Planning and executing the Bachelor Party can be even more stressful than planning your speech! You want it to be fun, memorable, and to pull it off without having any problems.
Simply put: throwing a bachelor party is a ton of work. You have to be organized and know what to expect. This guide shows you step by step how to give the groom a Bachelor Party that he'll never forget!

FREE Bonus #5 Complete Audio Version of Book and Bonuses – Value $50
For those of us that don't like reading, or just plain don't have the time, this bonus of complete audio versions of all material in this package (in MP3 format) is perfect.
Listen to the course in the car, or put it in your MP3 player (Smart Phone, other device etc) and take it with you on the go.
These audio recordings were done by a professional voice over artist so they are studio quality and easy to listen to.
You get to actually hear how the speeches sound as they are being delivered. So you can more easily visualize yourself presenting them.
While you listen along, you'll find yourself saying "I really like that opening", and "I can use that closing for sure" and before you know it you've mapped out the perfect best man speech for the wedding.

FREE Bonus #6 Professional Speech Review – Value $100
As an extra bonus to really make sure that your speech is as good as it possibly can be, you can email your finished speech to: steve [AT] bestmanspeeches.net for a review.
This bonus alone is priceless.
I can't tell you how many times I've rescued a best man who thought they had the perfect speech, but upon my review, were missing critical aspects that would have embarrassed them at the wedding!
Listen, you won't see anyone else offer this to you. I'm willing to do what others won't: personally review your speech, and give you individual advice on how to "knock it out of the park".
If you follow the guidelines in this book, you probably won't need your speech reviewed, but just in case you feel you need it, it's here for you.
Strict rules of this service…
Allow 2 days (that's 48 hours) from when I receive the email for your review. [Don't email it in the night before the wedding expecting it to be reviewed in 30 minutes]
You only get one review of one speech [There won't be iteration after iteration, this is a one shot deal]
This bonus speech review service is valid for 12 months from the date of your book purchase [Since the wedding date is most likely just around the corner for you, this is most likely won't affect you]
Total bonus value of $235 included with this package, that you get for FREE.
"That's an astonishing package! But you don't have to take just my word for it…"
"I bought the book just a day before the wedding and hoped for some help. The book actually gave me the perfect speech. All I did was follow the book's instructions, which took only a few minutes, and I was already done with my speech the same night as I bought the book. The wedding day went like this: I wasn't nervous, sweaty or stressed, I had my speech written and I knew it would blow everyone away. My speech would have been a disaster without your help. As I read off my speech, people were turning to each other and whispering. I was a little worried but when I saw everyone gave me a standing ovation at the end, I knew they were all complimenting me for an incredible performance. I never dreamed I could be such a good speaker in such a short time. I couldn't do it without the book!" Allen Davis (Hartford, CT) 10/05/08
"After I bought the book I realized my speech was missing so many key components. Steve's book had all the little details that turned my generic speech (which I found off a free speech site) into a real high-caliber piece of writing. I thought writing about my best friend would be easy but I needed help and this book really has all the answers." Jay Winters (Seattle, WA) 12/19/08
"Own this book! I found the exact type of speech I wanted after buying and returning other speech books online. Took me about 3 hours to put the whole speech together from start to finish." Mark Ganem (WA)
"I wanted to wing it and just use some free speeches I found online. The night before the wedding I read my initial speech to my friends and they thought it was horrible. I quickly downloaded this book and had a mind blowing speech ready the next day. Don't make the same mistake as me – grab this book while you can" James Lark (NC)
"Steve emailed me back the same day when I asked him some questions on why I need to be spending $30 on an E-Book. He was personal and actually cared about me not screwing up the big day. I can trust this guy, so can you" Daniel Simpson (WI)
"Nothing sounded cheesy or canned. I was able to put lots of my own stories and jokes in along with the material from the book. I'm happy!" Ben Craig (NM)
Need More Testimonials?
Want to read up on what other Best Men have been saying? I have many more testimonials I can email to you upon request. I don't even ask for feedback, they send it to me because they loved this book so much. E-mail me to read about more satisfied Best Men!
You're Also Getting A No-Risk, 60-Day "Bed Of Nails" Money-Back Guarantee!
This couldn't be simpler.
If you don't value this product so much and what it can do for your Best Man Speech, that you wouldn't lay on a bed of nails and let an elephant walk over the top of you to keep it, then ask for a refund within 60 days and I'll give you 100% of your money back no questions asked, you even keep the entire package as my way of saying thank you.
Instantly Download Best Man Speeches Made Easy For A One Time Only Investment of $19.99



Your purchase is 100% Satisfaction Guaranteed or your MONEY BACK!
That works out to less than the price of a coffee or hamburger per speech, not to mention all the openers, closers, toasts, jokes, and other bonuses that you'll have instant access to.
Here's a recap of everything you get:
Best Man Speeches Made Easy: 20+ pre-written speeches, 50+ openers and closers, 100s of jokes, quotes, and one liners
Marriage Quotes And One Liners: 180+ quotes and one liners to add spice to your unforgettable speech
Wedding Humor: tons of jokes and quips to keep them laughing
Public Speaking Made Easy: alleviate your fear of speaking, quickly and easily
Best Man Responsibilities: go beyond your speech and be the best Best Man that you can be
Planning And Executing The Bachelor Party: stay organized and head off potential planning problems with this quick and easy guide to throwing the best bachelor party ever
Complete Audio Version: listen to these professionally recorded audio versions while you are on the go and you can have a winning speech without all the reading
Professional Speech Review: If you follow the guidelines in Best Man Speeches Made Easy, you probably won't need your speech reviewed, but just in case you feel you need it, it's here for you



Your purchase is 100% Satisfaction Guaranteed or your MONEY BACK!
 Wow, that's a LOT of incredible material for only $19.99… and best of all, you get instant access to it in the form of a quick and easy download, no need to wait for shipping.
Now that I've shown you the mountain of incredible information you get with this deal… and how risk-free it is with my 60 day "bed of nails" money back guarantee…the next move is up to you.
Seriously, if you've read this far, than you obviously have a strong interest in making sure you put together the Best Man Speech that your groom deserves. All that's left is for you to take action and invest the $19.99 right now.
To the best speech of your life,
Steve Robbins
P.S. – You won't find a package anywhere else like this one! You get Best Man Speeches Made Easy, Marriage Quotes and One Liners, Wedding Humor, Public Speaking Made Easy, Best Man Responsibilities, and Planning And Executing The Bachelor Party for INSTANT DOWNLOAD ON YOUR PC OR MAC!
Don't forget, for those that don't like or have time to read, everything is also in Audio MP3 format ready to put in your car or your MP3 player, recorded by a professional voice over artist, so you can listen your way to a great speech.
And if that wasn't enough, I will PERSONALLY REVIEW your speech and give you impartial one on one advice on perfecting it! Absolutely nobody else offers this.
You get all of the above for the low investment of only $19.99, and don't forget that your purchase is backed by my iron clad "bed of nails" money back guarantee for a full 60 days.
You have nothing to lose and everything to gain, so don't let the groom down on the most important day of his life… own your copy right now!



Your purchase is 100% Satisfaction Guaranteed or your MONEY BACK!