A Few Best Man Speech Examples
I know potential customers need exact speech samples before purchasing a product. Our Best Man Speech examples are all taken exactly from the package Best Man Speeches Made Easy. You don't really need a lot of speech examples since if you invest in my training and education package you will have all the information you need to put together and deliver a winning Best Man Speech in no time at all. Take the shortcut, stop researching for info about your Best Man Speech, and wasting your time, you could have put together your speech already.
The whole package is an instant download so you don't have to wait for shipping, and if you don't value this product so much and what it can do for your Best Man Speech, that you wouldn't lay on a bed of nails and let an elephant walk over the top of you to keep it, then ask for a refund within 60 days and I'll give you 100% of your money back no questions asked, you even keep all the package materials and information as my way of saying thank you.
Here's a small sample of what's in the book Best Man Speeches: Made Easy, read below:

One Liners
"I've come to the conclusion that Best Man is just a fancy title for a Nanny! And as the Nanny, my main duty was to ensure that the Groom arrived today on time, sober and looking good. Well 2 out of 3 isn't bad. After all, I'm the Best Man, not a plastic surgeon!"
Questionnaire Examples
Our speech writing method involves a questionnaire to help you write the body of the speech. Here are a few of the many questions the book prompts you to help you get a detailed speech:
When and where did you meet the Groom?
What was your first impression of the Groom?
How has that changed over the years?
Openers
Our Best Man Speech examples also include openers. An opener is a vital part of the speech and our book provides you with the necessary tips and information to craft the best opener possible:
"Today we celebrate, not only the love and commitment that has united [Bride's Names] and [Groom's Name] in this bond of marriage, but also the love and support of the families…"
For the rest of this opener and even more examples, you'll need to buy the book.
Body of Speech
The main idea behind the body of the speech is to summarize the first phase of the Grooms life (as Best Man usually you've witnessed your fair share of it) and tie it into the next phase of his life as a married man.
Usually a couple of short stories about the Groom are needed to do this, just make sure that you can bring the story to a conclusion that has something to do with the wedding or being married in general. It's easy to do this, as most of the crazy stories that us men get up to, all end in lessons that can be learned! Lessons that can be applied to a man now entering married life.
This will give your Best Man Speech more depth and if delivered in a light hearted way will most likely give people a laugh. Especially those already married.
NOTE: If you have never been married, then you should ask one of your friends or family that have. Ask them how your story can be tied into being married, and I guarantee they'll have an answer for you.
Closers
"[Bride's Name] and [Groom's Name], I am sure everyone in this room joins me in saying that our best wishes, our admiration and our love are always with you. May you dream big dreams…"
More closers like this when you buy the book.
Your purchase is 100% Satisfaction Guaranteed or your MONEY BACK!
Want More? Read Here
These are but a couple of Best Man speech examples. Unfortunately I can't list every single word from the book. If you are reading this far you know you are interested.
Re-read the main page for the basic information, Best Man Speeches, or jump straight to the check out page below.

As I've said before Best Man Speeches: Made Easy works. It is guaranteed. Own the full training package and don't like it? Confused about how it puts it all together. Your investment will be refunded at the full amount if you are unsatisfied whatsoever. No questions asked and your money back. Thousands of hours have been put into this information so I stand by it and present the book to you at no risk at all! You have nothing to lose … except your fear of Best Man Speeches!

You will begin downloading the whole package immediately, no need to wait for shipping.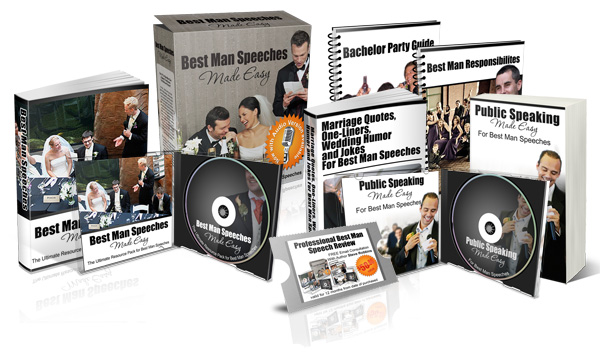 Steve, Give me all the bonuses and a 100% money back guarantee!
Own It Today & Grab These Bonuses!
$100 FREE Bonus Professional Speech Review by author Steve Robbins
$25 FREE Bonus Humongous list of Wedding toasts
$20 FREE Bonus Collection of hundreds of wedding speech openers and closers
$20 FREE Bonus Guide to public speaking and eliminating your fears
$15 FREE Bonus Secrets to rehersal and practice routines
$15 FREE Bonus Bachelor party guide
Your investment is 100% Satisfaction Guaranteed or your MONEY BACK!