How to Dress For the Wedding
For the big day, the Best Man needs to dress like he is actually the Best Man. Start off by asking about the attire of the Groomsmen. Are they going for a themed approach, with colored tuxes or khaki suits. If not, it means standard black tie. You need to either purchase a real tuxedo from a reputable retailer, like Saks, Nordstrom or if you are on a budget, Men's Warehouse. Once you find some tuxedos to try on, take a few off the rack into the fitting room. You are looking for a jacket that hugs your shoulders. Don't sacrifice overall fit for comfort. A proper tux jacket will be slim and stylish. Have the pants sit below your waist, not up to your chest like your Grandpa. Make sure the in-house tailor hems the pants so they sit barely on your shoes. If you have a lot of excess material it will look very sloppy during the wedding. As for the shoes, a basic black leather lace-up, with a slim leather sole, works best. No square-toes!

The accessories are another story. Grab a solid black bow-tie in matching material as the lapels on your jacket. If gossgrain, then get a gossgrain tie, if satin, then obviously purchase a satin tie. No blue ties, this is not your senior prom. Avoid a cummerbund because it makes you look like you are in the 1980's. Suspenders are alright, make sure they are black as well. When you are purchasing your shirt, it is important to buy one with a regular collar. Those big drastic wing collars are made for the movies and you need to wear the same type white shirt you wear to the office. Ruffles on the front are okay, it is up to you.

Want More? Read On
Re-read the main page for the basic information, Best Man Speeches, or jump straight to the check out page below.

As I've said before Best Man Speeches: Made Easy works. It is guaranteed. Own the full training package and don't like it? Confused about how it puts it all together. Your investment will be refunded at the full amount if you are unsatisfied whatsoever. No questions asked and your money back. Thousands of hours have been put into this information so I stand by it and present the book to you at no risk at all! You have nothing to lose … except your fear of Best Man Speeches!

You will begin downloading the whole package immediately, no need to wait for shipping.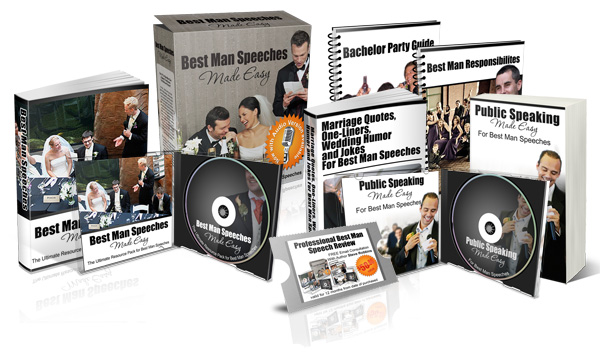 Steve, Give me all the bonuses and a 100% money back guarantee!
Own It Today & Grab These Bonuses!
$100 FREE Bonus Professional Speech Review by author Steve Robbins
$25 FREE Bonus Humongous list of Wedding toasts
$20 FREE Bonus Collection of hundreds of wedding speech openers and closers
$20 FREE Bonus Guide to public speaking and eliminating your fears
$15 FREE Bonus Secrets to rehersal and practice routines
$15 FREE Bonus Bachelor party guide
Your investment is 100% Satisfaction Guaranteed or your MONEY BACK!