What Types of Best Man Speech Jokes to Use?
Of course Best Man Speeches: Made Easy contains hundreds of one-liners and full length wedding jokes. The question is what types of jokes to use for which speech? Best Man speech jokes should be of varying length, from short quirky ones that garner a smirk to longer, more thoughtful jokes that render the audience in laughter from the hidden truths and irony. My belief is that the proper ratio of Best Man speech jokes is 2:1. That is, two short jokes and one full length.
What Jokes Are Appropriate?
Once you have decided on the lengths, it is time to pick the type of joke. This is an important step that many Best Men fail to perform properly. Best Man speech jokes should be as appropriate as the crowd attending. No gratuitous bathroom humor or crazy college anecdote if there are children or the elderly present (as there probably will be). Watch out for religious jokes because you don't know everyone's denomination. You are setting yourself up for Best Man failure if you are using a Jewish joke at you know where. Keep in mind guests want to hear about the Groom and the fondest of memories, not a wicked trip to Cancun a decade ago. Best Man Speeches: Made Easy prefers more neutral jokes that everyone, from age 3 to 93 can enjoy. Here are some samples found within the book:

A lady inserted an "ad" in the classifieds: "husband wanted."
The next day she received a hundred letters. They all said the same thing: "u can have mine."


In the first year of marriage, the man speaks and the woman listens.
In the second year, the woman speaks and the man listens.
In the third year, they both speak and the neighbors listen.


What If No One Laughs?
Sometimes even the funniest joke (at least on paper) garners no laughs. Don't sweat it. You can only make the situation worse if you show your nervousness on stage. Keep your composure and keep smiling and avoid fake laughing at your own one-liners. If you don't think the joke was somewhat funny, obviously no one else will either – but don't over do it! Remember you have to sell the product before they can buy it!


Want More? Read On…
These are but a few Best Man speech jokes. There are hundreds more of these funny lines plus an unbelievable amount of tips that will help you succeed on wedding day. Unfortunately I can't list every single word from the book, only a couple examples. If you are reading this far you know you are interested. Re-read the main page for the basic information, Best Man Speeches, or jump straight to the check out page below.

As I've said before Best Man Speeches: Made Easy works. It is guaranteed. Own the full training package and don't like it? Confused about how it puts it all together. Your investment will be refunded at the full amount if you are unsatisfied whatsoever. No questions asked and your money back. Thousands of hours have been put into this information so I stand by it and present the book to you at no risk at all! You have nothing to lose … except your fear of Best Man Speeches!

You will begin downloading the whole package immediately, no need to wait for shipping.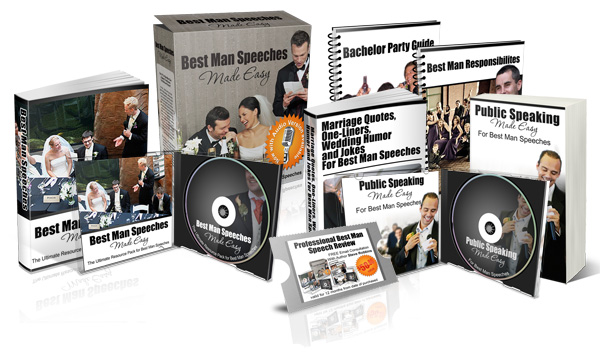 Steve, Give me all the bonuses and a 100% money back guarantee!
Own It Today & Grab These Bonuses!
$100 FREE Bonus Professional Speech Review by author Steve Robbins
$25 FREE Bonus Humongous list of Wedding toasts
$20 FREE Bonus Collection of hundreds of wedding speech openers and closers
$20 FREE Bonus Guide to public speaking and eliminating your fears
$15 FREE Bonus Secrets to rehersal and practice routines
$15 FREE Bonus Bachelor party guide
Your investment is 100% Satisfaction Guaranteed or your MONEY BACK!

I always get a laugh out of this Best Man completely ruining the vows. He's spending so much time looking at the Bride's Maid he's not with the program at all. Let's hope his Best Man Speech went a lot smoother, as of course yours will, with the help of the Best Man Speeches Made Easy package.
And check these guys out. What a performance! Of course we can't all be Michael Jackson, but it's great to see some creative thinking and lots and lots of practice.